HandBrake is the tool which can convert any format to a lot of supported codecs. Not only is it free, but it's awesome and flexible! It may take some time of getting used to, but there are tutorials and posts, which can guide your way through the thorns of knowledge-lacked.
Official Page – https://handbrake.fr
It takes upon many video formats and has the capabilities of turning them into MP4 or MKV. The quality can be reduced or kept, something very appropriate to those who have raw .avi files or giant projects of clutter.
List of extensions HandBrake loves and gives attention to:
MP4
M4V
MKV
MPG
MPEG
AVI
WMV
FLV
WEBM
Video Rotation Commands:
Command: , –rotate=1-7
1 : x flip
2 : y flip
3 : 180 degrees rotate (also the DEFAULT)
4 : 90 degrees rotate (clockwise)
5 : 90 degrees rotate + y flip
6 : 270 degrees rotate + y flip
7 : 270 degrees rotate
Inserting the commands for rotation:
Put a video on
Give it a destination folder
Click on Video settings
Insert the desired command in the Extra Options field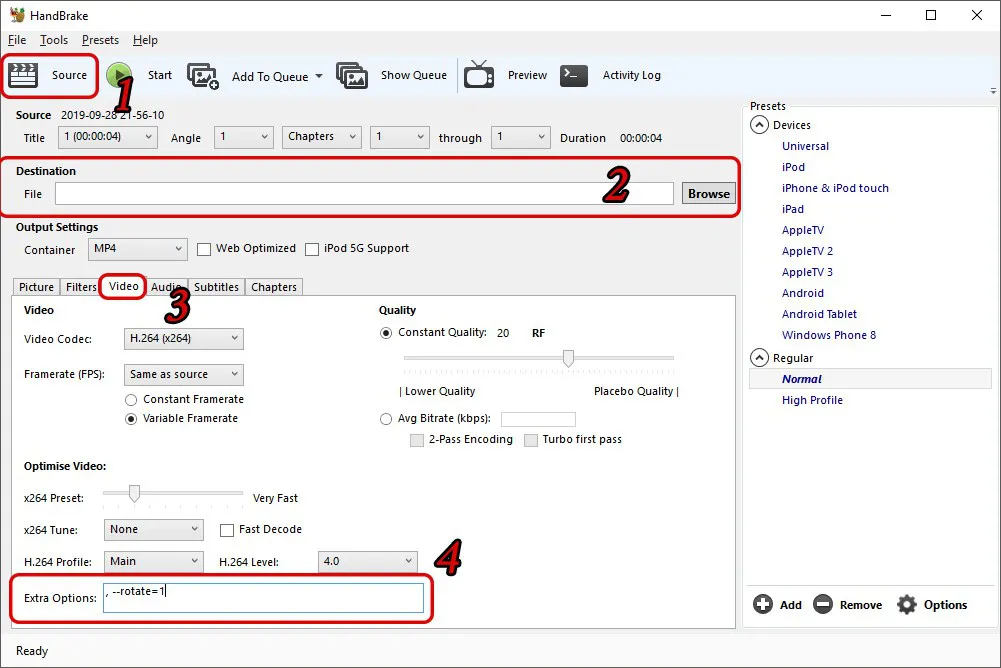 Be wary of compression, as lossy compression can lead to worse quality, both audio and visual. Do not randomly click around buttons and hope for the best, since such could only lead to the worst.